SAFETY LOGICAL BASES OF MANAGEMENT OF INFORMATION SYSTEMS AND PROJECTS IN CIVIL PROTECTION
Synopsis
The monograph contains the basic concepts, methods and models of safety management in the development projects of organizational and technical systems. The analysis of civil protection system of Ukraine functioning is carried out. The concept-categorical apparatus and the concept of safety-oriented management of projects of development сomplex  systems are developed. A system model of project safety of construction "Arena Lviv" stadium has been created, which implements methodological approaches to project safety planning at the conceptual stage of the life cycle.
Is proposed the approach for the development of project's product life cycle models of development the infrastructure of complex regional system, which involves the formalization of all major system processes. These provisions made it possible to develop a service model of project product and a model of "Lviv" airport infrastructure project integrated safety assessment. The scientific results obtained in the monograph complement the existing methodology of project management and change the philosophy of perceiving the project's value characteristics, taking into account the new component of "project safety".
The monograph is designed for masters of educational programs for preparation in project management, strategic planning, information technologies and computer sciences. May be useful to experts working in the field of designing information systems supporting regional authorities, the State Emergency Service of Ukraine, practitioners, graduate students and scholars.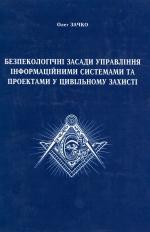 Copyright (c) 2019 Scientific Publications of Lviv State University of Life Safety
Details about this monograph