LEGAL REGULATION OF RELATIONS IN THE INFORMATION ENVIRONMENT OF UKRAINE: ADMINISTRATIVE AND LEGAL ASPECTS
Synopsis
The monograph is devoted to the topical problem of domestic legal science. The authors tried to comprehensively consider the issue related to the activities of administrative and legal regulation of relations in the information environment of Ukraine. The analysis of the legal norms regulating the specified type of activity and the mechanism of their realization inactivity of information maintenance is carried out. The national information sphere is in a state of active formation, harmonious involvement in the global world information space and is the basis for the development of the information environment in Ukraine. And in this aspect, the priority today is to develop a large array of regulations that would ensure the proper formation and functioning of the main institutions of the information environment in Ukraine.
Empirical materials are presented.
Monographic research is an educational and scientific material that should be used in the educational process, research and is recommended for teachers, researchers, graduate students, applicants and students of higher education.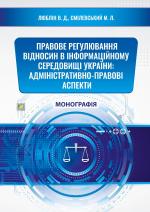 Published
November 22, 2021
Details about this monograph