Culture as a phenomenon of the human spirit (versatility and scientific understanding): Proceedings of the VI International Scientific Conference of cadets, students, graduate students and associate professors, November 18-19, 2021
Synopsis
The collection is based on the abstracts of the VI International Scientific Conference of cadets, students, graduate students and associate professors "Culture as a phenomenon of the human spirit (versatility and scientific understanding)" November 18-19, 2021.
Materials are published in Ukrainian, Polish and English languages.
The collection contains materials of such thematic sections
Section 1. Language and culture - the main identifiers of the nation (up to 150 anniversary of Lesya Ukrainka's birthday).
Section 2. Ukrainian cultural and national component of the world civilization. Culture and war.
Section 3. Ethical and aesthetic in culture. Religion as a sphere of culture.
Section 4. Sociocultural dimension of science. Socio-psychological factors of cultural formation. Information and communication technologies as the newest form of cultural existence.
The authors of the materials and their leaders are responsible for the accuracy of the facts, the independence of scientific analysis and the normative style of presentation, as well as for the use of information that is not recommended for open publication.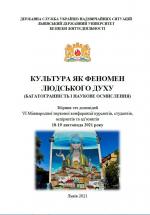 Published
December 16, 2021
Details about this monograph