Problems and prospects of labor protection development: Proceedings of the IX All-Ukrainian scientific-practical conference of cadets, students and postgraduate students
Synopsis
The collection is based on the scientific materials of the IX All-Ukrainian scientific-practical conference of cadets, students, graduate students and associate professors "Problems and prospects of labor protection". The collection contains materials from the following thematic sections:
Section I - Management of labor protection and industrial safety.
Section II – Technologies of control and protection against harmful and dangerous production factors.
Section III – Modern information technology as a tool to increase the level of industrial safety.
Section IV – Prevention of occupational injuries.
Section V – Culture and psychology of work.
Section VI – Humanitarian aspects of modern specialist training.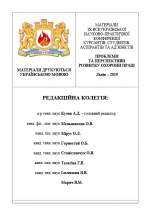 Copyright (c) 2020 Scientific Publications of Lviv State University of Life Safety