Culture as a Phenomenon of the Human Spirit (Versatility and Scientific Understanding): Proceedings of the IV International Scientific Conference of Cadets and Students. To the 70th anniversary of Lviv State University of Life Safety, November 16-17, 2017
Synopsis
The collection is based on the abstracts of the IV International Scientific Conference of cadets and students "Culture as a phenomenon of the human spirit (versatility and scientific understanding)." To the 70th anniversary of Lviv State University of Life Safety, November 16-17, 2017.
Materials are published in Ukrainian and Russian.
The collection contains materials from the following thematic sections:
Section 1 - Socio-cultural dimension of science.
Section 2 - Ukrainian cultural and national component of world civilization.
Section 3 - Cultural component in the educational process of higher education (to the 70th anniversary of LSU BJD).
Section 4 - Religion as a sphere of culture.
Section 5 - Phenomena of language: culturological and philological aspect.
Section 6 - Socio-psychological factors of cultural creation.
Section 7 - Ethical and aesthetic in culture.
Section 8 Information technologies as the newest form of culture existence.
The authors of the published materials are responsible for the accuracy of the above facts, the independence of scientific analysis and the normative stylistics of the presentation, as well as for the use of information that is not recommended for open publication.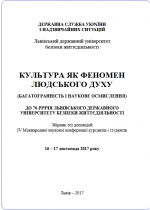 Published
November 16, 2017
Copyright (c) 2020 Scientific Publications of Lviv State University of Life Safety